Southern Midlands
This map is tentative and subject to change/correction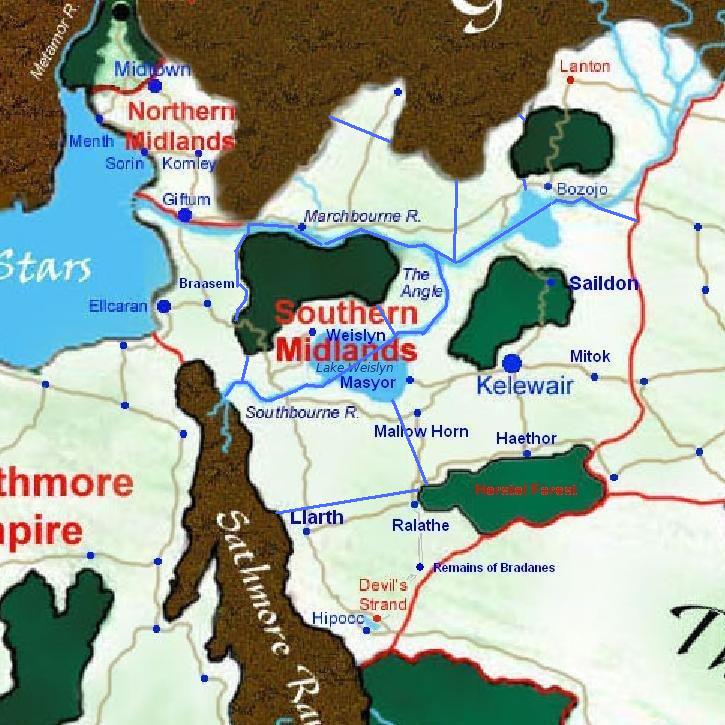 Name: Southern Midlands
Government:Feudal alliance of semi-autonomous city-states and manorial estates all of which are under the ultimate control of the Duchy of Kelewair.
Sovereign: Duke Titian Verdane
Capital:_ Kelewair
Climate:
Religious Affiliation: 48% Lothanasi, 48% Ecclesia, 2% other. Its rulers are of the Ecclesia and they enjoy more official protection.
Borders:
- East: Outer Midlands
- South: Flatlands, Herstel Forest
- West: Sathmore Mountain Range and the Sea of Stars
- North: Great Barrier Mountain range, and Northern Midlands.
Notable places:
The Angle
Braasem
The Ruins of Bradanes
Devils Strand
Haethor
Herstel Forest
Hipocc
Lake Weislyn
Marchbourne River
Southbourne River
Countries and City-states:
Ealarathe
Ellcaran
Eastern Marches
Hawks Point
Haniran
Kelewair
Llarth
Mallow Horn
Masyor
Mitok
Northern Marches
Ralathe
Saildon
Weislyn
History:
Earliest history of the region is unknown but the KKarrt Empire is known to have held Ellcaran at some points. Southern part of the area were held by a people called the Arysnia and the rest (most) by the Mintiri. The region changed hands frequently between the KKarrt Empire and the Mintiri with the Arysnia frequently caught in between or playing off the other two sides.
The areas was invaded and held by cenetl as was most of the Midlands. It was home to several cenetl tribes whose descendants still inhabit the area. It was invaded and conquered by the Suielman empire.
Once the heart of the Suielman empire, it was divided into several different provinces including: Aregunia, Kelewair and Spirgugunum. The main seaport was Ellcaran.
page revision: 19, last edited: 09 Dec 2018 21:50